Carbon savings from bot reduction
Has your brand considered its global impact on the climate and thought about what carbon savings it can make? 
Sustainability was a big marketing trend for 2022 and it's one area where a positive impact can have a significant attraction for new customers. 
It's a concerning thought that – if it were a country – the internet would be the seventh largest polluter in the world. With 75% of adults in Great Britain worried about climate change, the pressure to deliver sustainable web design is more important than before. 
Creative production and marketing solutions company CLICKON has shared survey data (see image below) which shows more than two-thirds of leaders in advertising (73% UK / 67% US) consider sustainable advertising to be important to their business.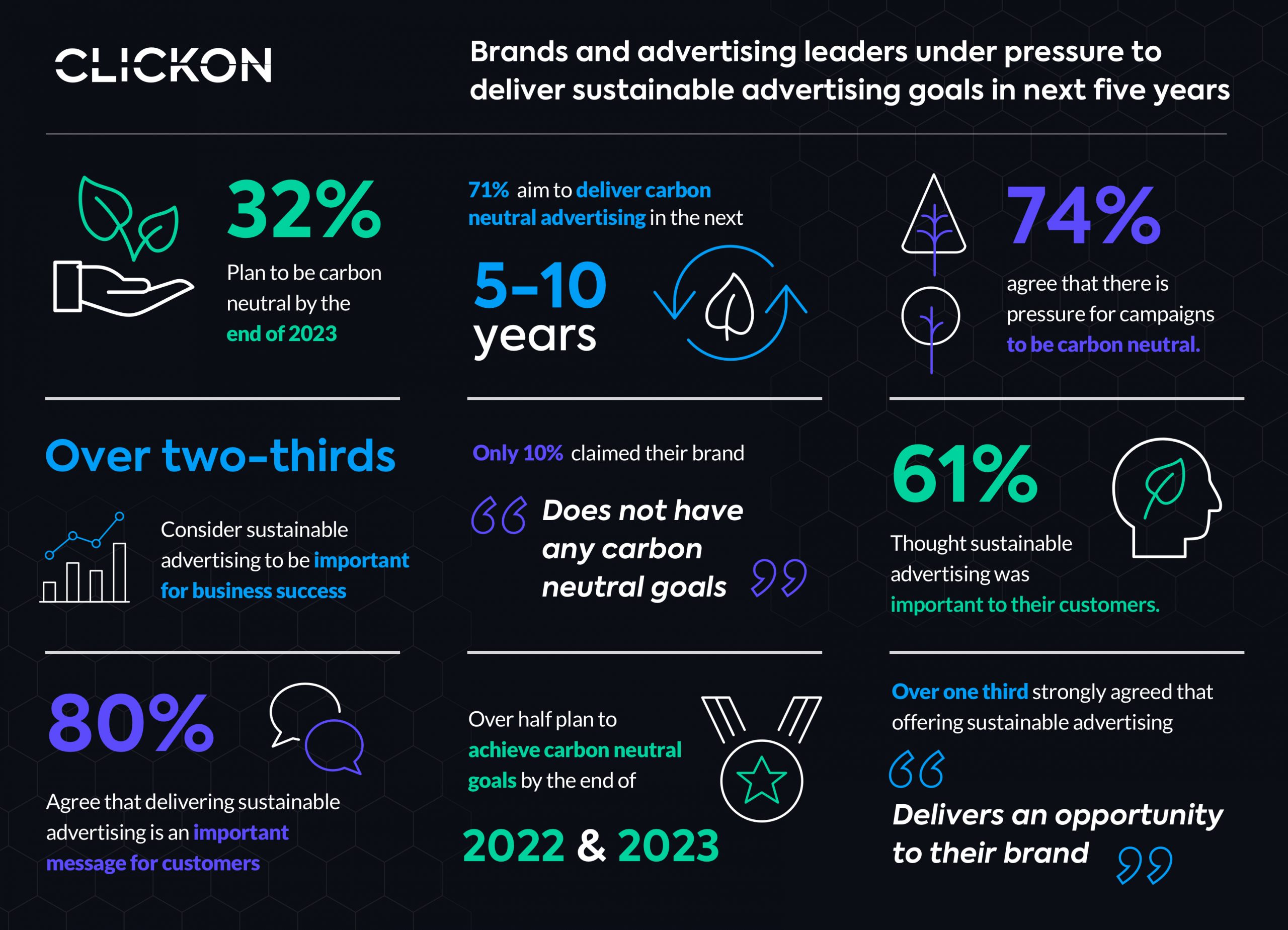 Web sustainability is becoming more important, and the subject covers a multitude of different elements, from technical details to design, as well as the way you organise your content with the aim of making carbon savings. 
Back in 2019 The Shift Project published a report (see image below) which showed that: 
Digital technologies are responsible for roughly 4% of greenhouse gas emissions.
The energy consumption of digital technologies is increasing by 9% a year.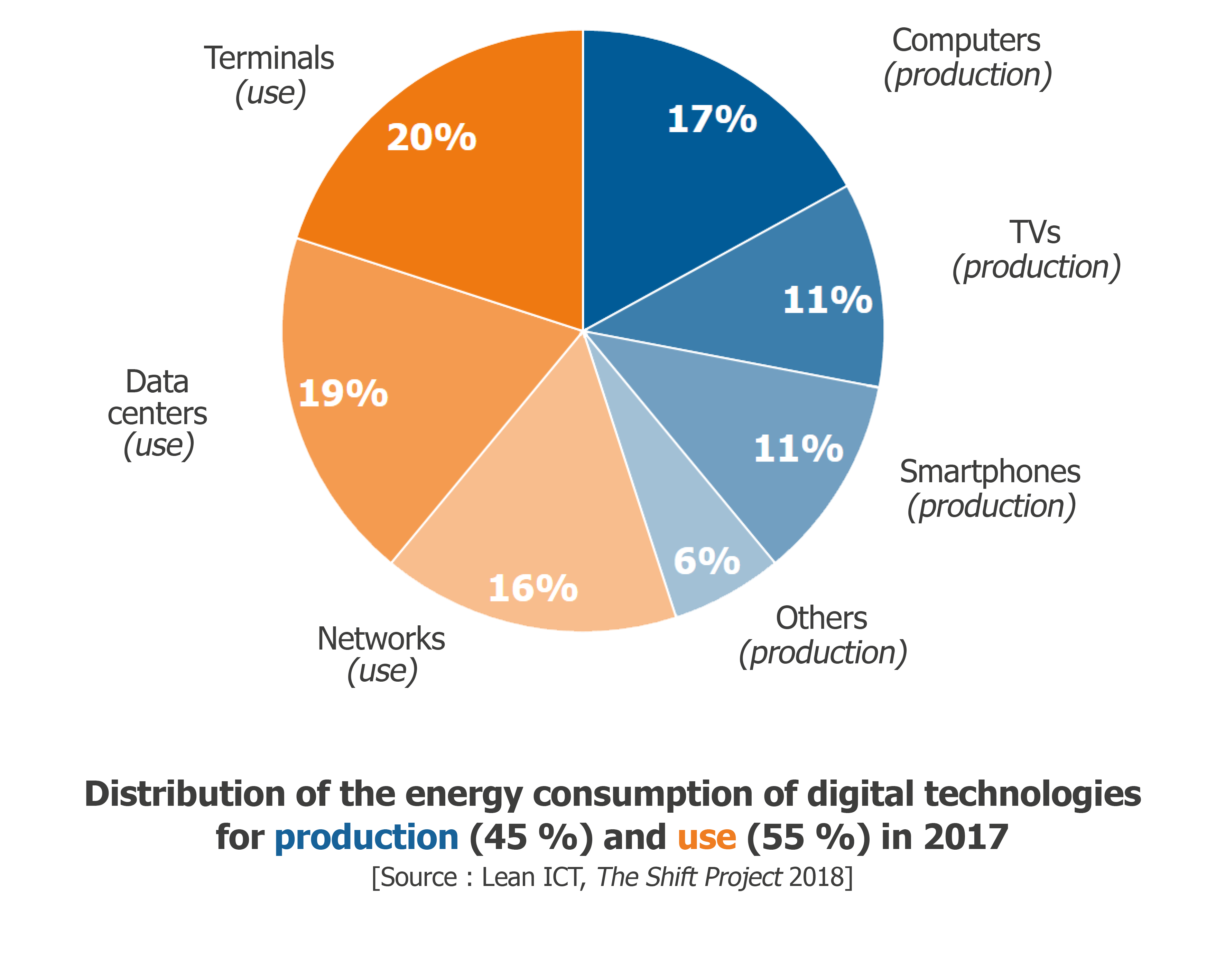 Websites are prime drivers of energy usage, the services hosting your brand's website are constantly on.  
Every online action – including each one with your website – results in a use of electricity. When someone visits your website, their browser makes an HTTP request to your server asking for information. 
This in turn, requires your server to respond to that request and then return the necessary information. Whenever this occurs, your website spends a small amount of energy completing the action.  
On the receiving end, the browser also uses power to process the data and present the page to the viewer. 
Calculating the carbon footprint of your website 
One of the easiest ways to check your website's carbon footprint is to use the website carbon calculator at https://www.websitecarbon.com which will run an analysis and give you a report on the CO2 emissions produced each time someone visits a page on your site. 
To calculate the energy and emission of a web page Website Carbon uses the following data points: 
Data transfer over the wire; 
Energy intensity of web data; 
Energy source used by the data centre; 
Carbon intensity of electricity; 
Website traffic. 
Network system boundaries make it challenging to define accurate digital emissions calculations but organisations like Wholegrain Digital, Mightybytes, EcoPing and the Green Web Foundation have been working together to define new open standards for estimating carbon emissions from digital products and services. 
On average, it is reported that each web page generates around 0.5 grams of CO2 for every 10,000 monthly page views. That's 60kgs of carbon dioxide every year. 
What steps can you take to reduce carbon omissions? 
There are a number of options available to help brands make carbon savings, including using a green host, buying carbon offsets through certified and reputable companies like Climate Care or by reducing the output of carbon omissions via your website. 
Remove non-human malicious interactions 
The effect on your energy expenditure is the same whether it's a human visitor or a bot but with at least 40% of all web traffic estimated to be non-human, it's worth filtering out the non-essential bots from your website. 
When it comes to environmental impact, it makes no difference whether it's a 'good' or 'bad' bot that's visiting your website. 
Malicious bots not only damage your brand through a multitude of different ways, but they're contributing to your carbon omissions and they're something that can be dealt with. 
Veracity Trust Network's Website Threat Protection is a machine-learning led bot detection solution that protects your website from automated attacks by removing non-human bots from the equation. 
It safeguards your online revenue, competitive edge and brand reputation by addressing the twin challenges of: 
Security – minimising vulnerabilities and defending from threat; 
Fraud – preventing loss and ensuring friction-free customer experience. 
The latest release will also be able to show you the carbon omissions you've saved by blocking bots from your website (see image below).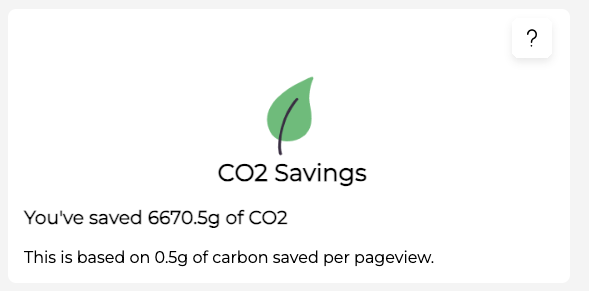 "Many people in the digital sectors now recognise the responsibility that their organisations have to help contribute to the reduction in carbon emissions specifically.

"One thing that can really help is to reduce the amount of traffic to your web portfolio – in a positive way – by reducing non-human traffic that will never convert, that pollutes your analytical data, and that pollutes the world." 

Stewart Boutcher, CTO Veracity Trust Network 
Reducing media size 
The higher quality and larger size the images you upload, the more data is transferred, as a result, the amount of energy expended in the process will be higher.  
This is one of the easiest ways of reducing CO2 use and creating carbon savings. You don't need to have razor-sharp images that are a few MBs in size, use an image size that is clear enough for your viewers to be able to read it, without it being a huge file. 
Export images with the correct size and format and compress them using a tool or plugin to reduce their weight. 
Slow-loading images are also another way potential visitors will be put off from returning to your website, so it's a win all round to reduce your media load. 
Check for out-of-date or no longer relevant content 
Regularly cleaning up pages that you're not using anymore is not only saving energy, but it also helps site visitors find the right content and not get lost on your website. 
Combine this with writing in a clear and understandable way that also benefits your SEO and helps users find what they're looking for more easily and you'll reduce the amount of time people need to spend searching for relevant content. 
About Veracity Trust Network 
Veracity Trust Network is award-winning technology* applicable to any business operating a website and works to block a wide range of bot attacks, preserving website performance, while optimising infrastructure costs and security resources.   
Start protecting your business from fake and malicious bot web traffic, and reduce your carbon omissions, by booking a call now:  
https://veracitytrustnetwork.com/talk-to-us
*Digital City Awards 2022: Innovation of the Year, Best Business Awards 2022: Best Innovation, Best Martech Innovation at Prolific North Tech Awards 2021, B2B Marketing Expo Innovation Award for Best Marketing Tool 2021, and the Tech Nation Rising Stars 3.0 Cyber Award 2021, as well as holding Verified by TAG status.