How to stop bot traffic damage in your online marketing
Bot traffic is a key component of digital ad fraud, the cost of which is projected to climb from $35 billion in 2018 to $100 billion in 2023.
E-commerce applications and login portals are the most common targets of advanced persistent bot traffic according to a report from Barracuda. 
The report, carried out in the first six months of 2021 and focusing on traffic patterns measured by its application security solutions, found that bots accounted for nearly two-thirds of internet traffic.
Malicious bots made up nearly 40% of all traffic.
What is bot traffic?
When talking about bot traffic it generally refers to any website visit which isn't carried out by a human, whether the website is a business one, popular news site, newly published company site or a long established brand, it will be visited by a certain number of bots over time.
Not all of these bots are malicious or have bad intentions. There are many legitimate bots that perform essential tasks for the operation of specific web services, such as search engines and digital assistants.
Invalid website visits which come from bot traffic can damage a brand's reputation and lead to suspension with Google, Amazon, and other partners.
Invalid traffic occurs both accidentally and with fraudulent intent. According to Google it can 'include accidental clicks caused by intrusive ad implementations, fraudulent clicking by competing advertisers, advertising botnets and more.'
A study carried out in 2017 by 16 of the leading programmatic publishers found alarming figures around video and display advertising fraud, and not much has improved since.
Google put a financial figure behind some of the impact, suggesting publishers lose $3.5 million to fraud daily or $1.27 billion yearly based on a $5 video ad CPM valuation thanks to spoofed domains on ad exchanges, as reported by The Drum.
When your website receives a lot of unauthorised bot traffic, you can expect to see things like:
More page views

High bandwidth usage

Incorrect Google Analytics reports

Conversion decreases

Junk emails

Longer load times

Increased bounce rate
You can reduce the chances of this happening by using a robots.txt file on your site. This will assist in keeping the more well known bots away but may not block all malicious bots although they can be programmed to ignore it.
Publishers can also compile a list of known "offensive" IP addresses and deny those visit requests on their website, this can also help prevent Distributed Denial of Service (DDoS) attacks.
Make sure you're using Google Analytics to filter out bot traffic. This is a simple tick box you can find in the Admin settings of your account.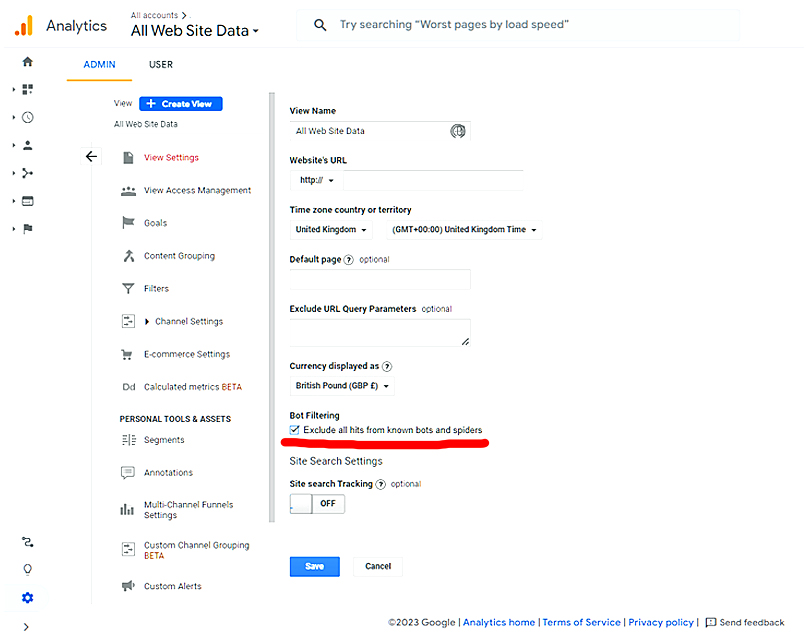 Invalid traffic is only one side of the coin, the danger posed by malicious bots is just as serious.
What is a malicious bot?
A malicious bot is an automated software program which is designed to act in a detrimental manner, often also with criminal intent. This can include the following ways:
Using bots to crawl web pages and steal content;

Serving spam, scraping information, and generating fake ad impressions in online marketing campaigns;

Driving bad ad placements in

fraudulent programmatic platforms

;

Filling out forms with fake information to

create bad leads

;

Spamming your organisation's contact or survey forms with bad messages—which can keep you from responding to genuine inquiries;

Posting fraudulent reviews on websites to make products and services look better or worse than they actually are to potential customers.
Hijacked Ads on your website
Malicious ad bots can hijack a website visitor's web browser software – adding an overlay to websites that injects ads that aren't even supposed to be there. Quite often the visitor is unaware that the ads aren't part of the website.
So, when visitors see a bunch of spammy ads for fake or inappropriate products on your site, they'll associate your company brand with those ads. This can create negative PR and cause potential customers to avoid your brand.
Performing regular security checks or, if you don't have the time to do it yourself, subscribing to a security monitoring service, are two of the easiest ways to help prevent hacked ads on your website.
Make sure your web software, like WordPress for your site or Apache for your web server, is up-to-date. The same rules apply with the software that you use every single day, which includes your web browser and operating system. 
Find out all you can about the ad networks and exchanges you want to use to place adverts on your website, including their reputation and security policies.
Poor backlinks affecting SEO
Backlinks are one of the factors that Google uses to rank websites and place them high in online search results. Moz calls them "an essential component of off-site SEO."
Malicious bots can damage your website SEO ranking by using low quality backlinks, malicious bots can be used to spam your website with low-quality links from dubious web domains.
If Google sees you have low-quality domains as the primary source for your website backlinks, it may deem your own website to be low quality or – which is much worse – assume you've paid for bad backlinks and it will drive your web pages even further down the SERPs list.
Fortunately, Google also provides a tool for dealing with poor backlinks. However, you should only disavow backlinks if:
You have a considerable number of spammy, artificial, or low-quality links pointing to your site,
AND
The links have caused a manual action, or likely will cause a manual action, on your site.
Google tries to make sure that actions on third-party sites do not negatively affect a website. In most cases, Google can assess which links to trust without additional guidance, so most sites will not need to use this tool.
It is important that you don't ignore bot traffic, as it can become incredibly costly for any company with a digital presence.
Catching the bots is just the first half of the challenge, and fighting them can be impossible. The best approach is to take preventative measures so bots can't touch you in the first place.
Veracity Trust Network can help you
When you protect your website and advertising from bots, you can ensure your website runs smoothly, provides an optimal user experience and reduces a number of different threats to your brand reputation and ad spend.
Veracity Trust Network helps protect companies from bot attacks and click fraud in many ways, including:
Detection and prevention of bot attacks using advanced technologies such as machine learning and artificial intelligence to detect and prevent bot attacks in real-time;

Reduction of click fraud by detecting and blocking fake clicks generated by bots and other malicious actors, ensuring accurate traffic data and reducing wasted spend on fake clicks;

Enhanced security by providing additional layers of security to protect against cyber attacks and other forms of malicious activity;

Improved website performance by preventing bot attacks and click fraud, helping to improve the overall performance of websites with a better user experience;

Peace of mind for website owners, who can be confident that their websites are protected against the latest threats and are functioning optimally.

Veracity Trust Network also offers numerous benefits to companies in terms of detecting and preventing bot attacks, reducing click fraud, enhancing security, improving website performance, and providing peace of mind.
Start protecting your website now.